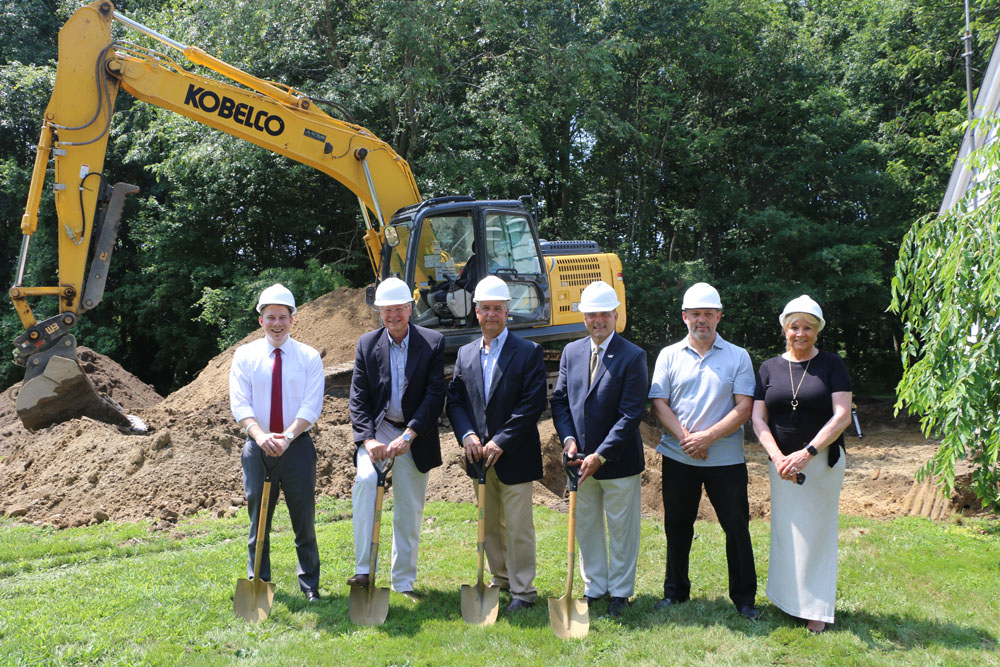 Remarks by Old Brookville Mayor Bernie Ryba
Good afternoon everyone – I would like to thank you all for attending this afternoon's event to commemorate an important milestone for our Village – the ground breaking for our Village Hall expansion and associated renovation project for our existing building.
I also want to express my thanks to our invited guests – County Legislator Josh Lafazan and Town of Oyster Bay Supervisor Joe Saladino for stopping by. After my remarks, I would like to invite Josh and Joe to say a few words to recognize this important day for the Village of Old Brookville.
Watch the Video of the Groundbreaking Ceremony
To put this event in some perspective, I would like you all to be aware that the present building was constructed in 1965 on seven acres of land that was donated to the Village by the Watson family. The cost of the building was also funded by the donations from Village residents. Going from a population of about 1,500 people in 1965 to approximately 2,200 today, the present 1,500 sq. ft. building is stretched to the limit by the Village Clerk's Department, the Building Department and by the Village Justice Court. For those of you who are not aware, this is a very busy little Village and we really need the extra space.
That said, I would like to thank our entire Village Board for their support and assistance. I particularly would like to thank our Building Inspector – Peter Albinski for his construction ideas for what I consider, a terrific building expansion.
In my email to the Village residents inviting them to this event, it was mentioned that there were years of delays leading up to this day. While there were different approaches to our expansion and multiple bid packages, on behalf of the Board I am pleased to say that our final plan for a 2,000 sq. ft. modular expansion was one that saved the Village hundreds of thousands of dollars over the cost of traditional construction.
However, comparatively speaking, it took the Village of Old Brookville longer to get to this point than it took to plan, construct and occupy the Empire State Building in the early 1930's which I think is rather remarkable.
That said, the new expansion and renovated existing building will be one that all village residents will be able to take pride in. It will have an expanded lobby, more space for the Village Clerk, dedicated space for the Building Department and enhanced features for our Village Justice Court. And, most importantly, much of the expansion will be dedicated to the new headquarters for the Old Brookville Police Department as of June 1, 2022. With a separate entrance and modern amenities, our Building Department will be working with the police and other members of our Construction Buildout team to create a fully functional efficient working space for our dedicated one village police department. A police department that will result in the doubling of patrols from one patrol car to two patrol cars 24/7 as of June 1, 2022 which will result in reduced police response time.
As your mayor for the past 12 years, from time to time I have also been the Assistant Police Commissioner for the Village and am presently, the Police Commissioner for Old Brookville. I have never been so appreciative of the Old Brookville Police and am proud to be associated with this increase in police protection for our residents. Please be assured that our Village will continue to be patrolled by Old Brookville police officers who are familiar with our Village, our roads and our residents.
Photos From the Groundbreaking Ceremony